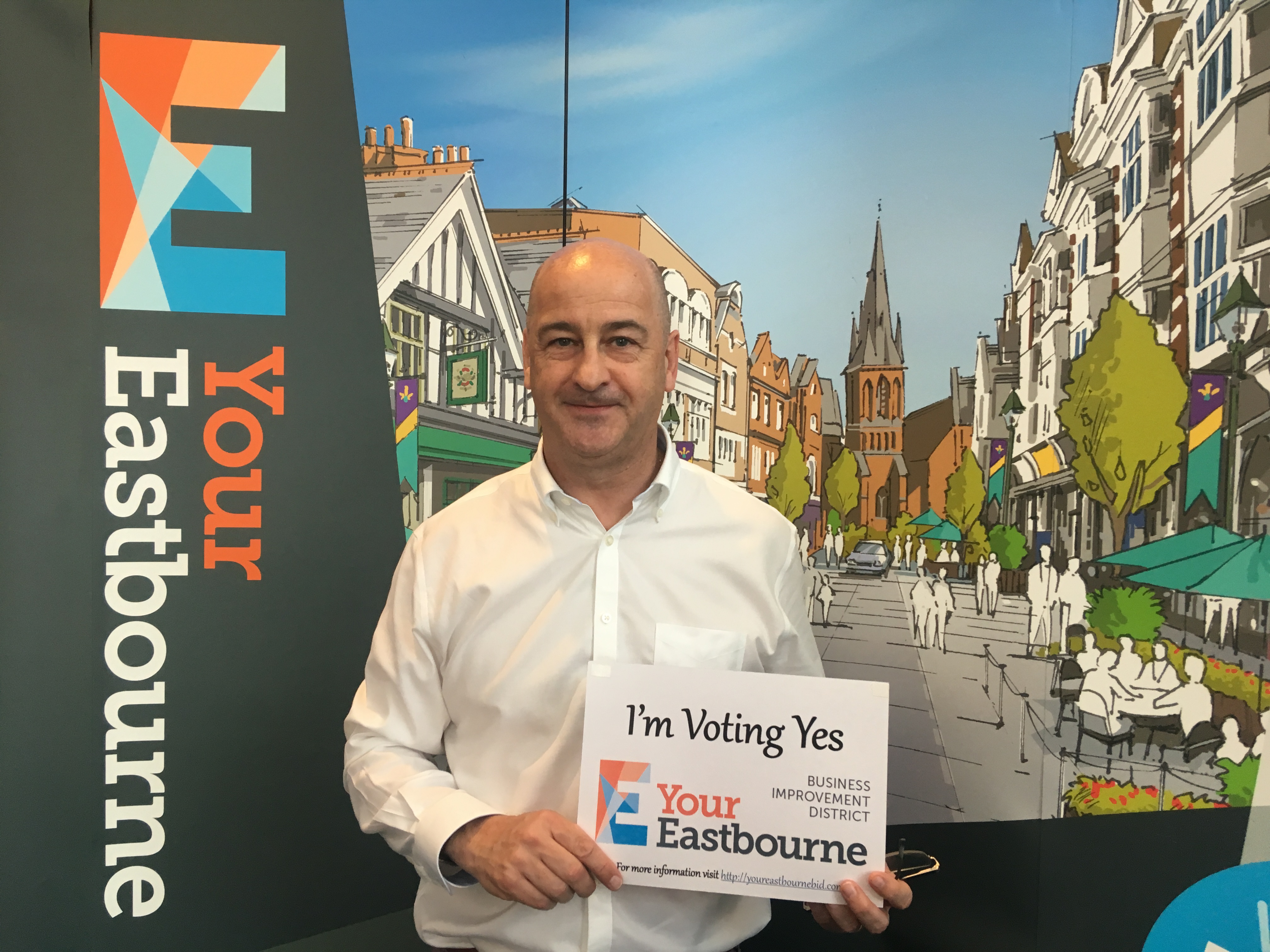 Your Eastbourne BID – Time to Vote!
July 19, 2019
Job Vacancy
September 2, 2019
Eastbourne businesses have voted overwhelmingly, by two to one, in favour of joining over 300 UK towns and cities in creating a Business Improvement District in our beautiful town.
In total, 232 votes were cast, with 68% backing the plans to invest £300,000 a year into the town centre.
Your Eastbourne BID is a business-led, business-funded initiative which has been developed over 4 years to regenerate our town centre, especially the independent areas beyond the Beacon Centre.
Shoes, Chair of Your Eastbourne BID and owner of The Eagle and Dew Drop Inn said "A huge thank you to everyone who voted "Yes" and backed our plans. My thanks to the steering group who have worked so hard over the past four years, giving their time freely to produce such a positive plan developed after much consultation with the businesses in the BID area. Thank you all again for your support. Now the real work begins!"
David Tutt, the Leader of Eastbourne Borough Council said "I would like to pass on my congratulations to the BID team, who have worked tirelessly to get this over the line. The business community mounted a strong and highly effective campaign and was able to demonstrate the benefits of being in a BID town. This is great news for Eastbourne, and more specifically for the all-important town centre shops and restaurants."
Christina Ewbank, Chief Executive of Edeal Enterprise Agency said "I am absolutely thrilled at the result. This investment by local businesses will make a huge difference to the town and will ensure that real changes are made. These changes won't happen overnight, but we will begin to make the town centre look really special. From the seafront end of Terminus Road all the way past the train station, through Little Chelsea, Gildredge Road, Cornfield Road and Terrace, Bolton Road, Langney Road, Commercial Road and all the roads in between. So watch this space!"
The BID Committee asked The Herald to record some much needed "thank you" messages. Firstly to the Borough Council for all their support and the hard work of their team. Especially the back-office team lead by Chief Exec, Rob Cottrill.
To the MP, Stephen Lloyd who supported the team and wrote to all the businesses in town to ask for their support.
To all the businesses who attended drop in events and consultation meetings and those who communicated the BID on Facebook and Twitter. Their impact on social media made all the difference.
Finally, and especially, a huge thank you to all the businesses who voted "yes" in such large numbers during July.
Recruitment


One of the first jobs for Your Eastbourne BID is to recruit someone to run the BID for the next five years. We will be advertising nationally and would encourage local applications as well. We will be looking for someone who has experience of project management, running events, writing bids for funding, marketing, PR and managing successful teams. If this describes you, email the BID at
[email protected]
If you would like to know more about the BID visit
www.YourEastbourneBID.com