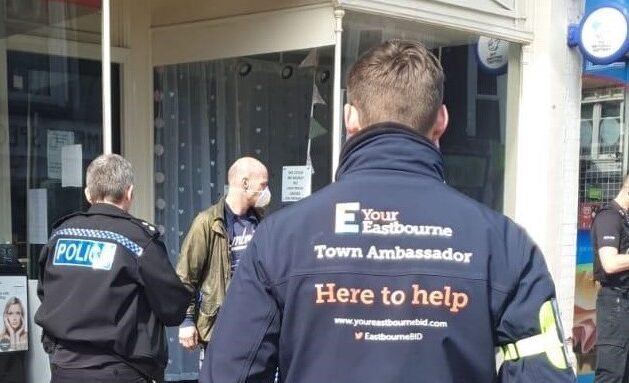 We appointed SIA security accredited town ambassadors in March. The team started days before lockdown and began to make a difference immediately. They continued working throughout lockdown, helping to manage queues, keeping an eye on your business premises, administering first aid, providing support and guidance and even removing a pigeon from a unit.
Our BID ambassadors patrol Eastbourne Town Centre Tuesday to Saturday. They are there to communicate with you, protect your business and welcome visitors. While the Police and Business Wardens may be engaged elsewhere in East Sussex when you need them, the BID Ambassadors are in the BID area the entire time they are working.
Any business within the Eastbourne BID can contact the ambassadors by calling 07516 927 052
Below, you can read a copy of their monthly reports which details some of the work that they undertake
I just wanted to take a moment to make you aware at how well both Wardens and Ambassadors are working together in Eastbourne. They are identifying offenders from other areas and are providing valuable intelligence in relation to drug dealers operating within the town and their movements.
Only this afternoon they worked together to corner a wanted male, who made off from them, in a derelict building, containing him until Police units arrived. They then assisted with gaining entry as the male had barricaded himself in. This is the second time they have spotted and detained the same male for being wanted on warrant working together as a team to get another excellent result.
Long may this good work continue as it will only be the town and the businesses that we work with that will benefit from the good work done by them all.
Adam Godden, Business Crime Specialist Advisor